Thank You!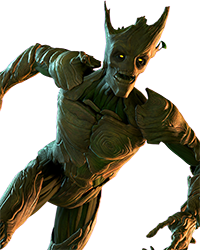 kessjrause
Former Telltale Staff
Hey everyone,
I've been meaning to write something to the Guardians gang for a while now, but with the holidays and new projects, time seemed to be a fickle thing. But I've got some minutes to kill, so I'm finally getting around to this.
I just wanted to say a huge thank you to all of you who played through Guardians! Myself and the rest of the team really could not have done this without you. We really appreciate your love for these characters, and your willingness to see them through to their happy(ish) end.
I also wanted to say a personal thank you: Episode 5 was my first foray as an episode lead, and even though I had spent a lot of time with these space jerks across the season, I was incredibly nervous to wrap our story up. We had crazy deadlines, and two branches that effected nearly every single scene. It was a lot of work to take on. But seeing how fans anticipated to see this story through really helped us work as hard as possible to create a worthy ending for this story.
So thank you, from the bottom of my heart, for sticking with us. It was one hell of a crazy ride, but it was a blast sharing it with you all. I hope you guys had as much fun playing Guardians as we did making it.
Stay Awesome,
~Jess Krause
Tagged:
Sign in
to comment in this discussion.