Is Tenn the new Sarah? Has the group failed him? (Sheltered and unprepared)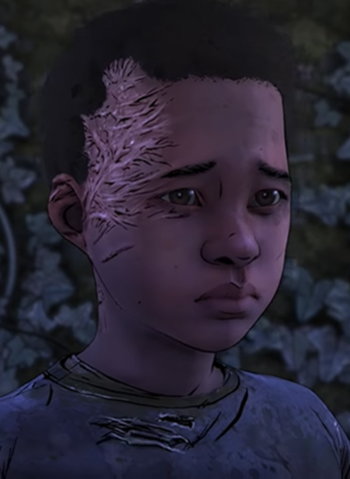 This episode really hurt me because how could anyone be mad at Tenn? But there I stood, angry, yelling for him to shoot but nothing happened and I was about to lose my shit. All my favorite characters almost dead because of him. It was so irresponsible. So I got angry but then realized it was never really his fault. He's so brilliant and philosophically intelligent for his age but he had one weakness. Everyone knew, but nobody cared. I have rarely been touched emotionally by a character like that when he spoke of how he let walkers in his afterlife utopia because they were people too at one time. He forgives them even after all they did to him. It was beautiful. He has a deeper understanding than most of the morality of humans and the beauty that lies within this sad pitiful display of evil that surrounds him. The ying and the yang.
But oh my god, How bad has this group failed poor ol Tenn. It might be me in denial. Maybe I just can't come to grips with the fact that Tenn is extremely unreliable and DANGEROUS under pressure. But I blame every last ounce of it on the group. Especially Clementine because as a outside survivor, she knows better. i'll explain a bit.
When Clementine was like 8 years old, Lee on that train, thought her survivalist traits. He had to and he knew it. If Lee had never done this she would have died in Season 2. But the hobo dude reminded Lee of the reality and that was Clem's job with this group to bring that survivalist mentality as a leader. It was kinda essential. To remind them that Tenn is a little kid but he's also relied upon. And many people's lives are in his hands if shit goes south. And more especially his own life when he has to fend for himself. Which has already happened. The very traits you need in this world must be bestowed to him like Lee did to Clem. Keep your hair short, how to be accurate with a handgun. Kenny and Lee thought Clem the means of survival, how to be strong in the face of death and being on the run from walkers and bandits made Clem a true hardened survivor.
Tenn didn't have this. And really someone should have taken Tenn out, put a gun in his hand and had him shoot walkers under the supervision of them. Stab eye sockets, stomp skulls, Lift weights, be ready. Maybe Louis or Marlon or even Clem (even though she didn't want to step on toes her first day there). Whoevers bright idea to not teach Tenn (who is at least 10) to shoot, survive, and fight in a fucking undead nightmare where walkers can kill you at any minute, truly dropped the ball.
This lead to a mentally fragile Tennessee, who had the whole situation in the palm of his hand, the person who seeked to kill his friends, his sisters and his family at the opposite end of a gun and he froze. He froze because he was never taught to be hard.
And here we have AJ, a 6 year old boy if that. Literally carrying this current group on his fucking back like Prime Jordan lol. I'm really thinking he is the leader at this point. He bit the guards ear off, saved Violet, rescued Clem, took his beating like a boss from someone 3 times his size and still pulled the damn trigger to kill TWO threats this season that were a danger to Clementine. Marlon and Lilly both dead behind the trigger of AJ. Who at first scared me but now I recognize, This is the world they live in. AJ was never a irrational monster. He was a trained assassin, a hardened warrior and a damn beast. He was not only rasied right, but raised borderline Perfectly for this setting by Clem. I could never have raised a better human. He doesn't crumble, he doesn't fold, he's a fucking soldier. And he's only 6. He has the traits that make a leader. But his morality is still preserved. And he still does love, he holds guilt and empathy and he cherishes those who are on the good side of morality. He is everything Tenn should be. I wish they would have taken the time. I hope Tenn survives the explosion.
Do you agree that the group dropped the ball with Tenn or do you think Tenn just is someone who may fold under pressure naturally and is just to shy? (Kinda like a Sarah) Did the group fail Sarah too? I mean her dad did pimp smack Sonic rings out her like a OG compton Pimp

Sign in
to comment in this discussion.