Walking Dead RP: The Forgotten Children
The Forgotten Children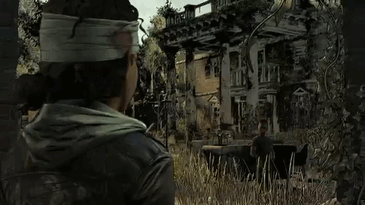 "Welcome to Ericson's Boarding School for Troubled Youth!"
Hello fellow roleplayers! We are a group of creative and driven roleplayers running a text-based roleplay on Discord named The Forgotten Children. As a way to practice our writing, and explore Telltale's The Walking Dead world a little more, we set up this Discord server devoted to roleplaying!
How it works is pretty simple: Pick a character and, provided they're not taken, you'll be introduced to the server and be able to interact with other characters. You can find a link to a spreadsheet, with characters that are taken and if the roleplayer would like to swap their role, right here!
---
How does it work?
The Discord server has different channels, several of which are to post on. These are written in standard prose, where we encourage various rules to make sure that it reads well if we ever want to read it back. It's a great way to practice writing, and when it's done well - as we encourage - it'll also be fun to help write!
There are also channels to talk about anything else - games, news, or just to have a bit of a natter - as we like to encourage socialising, rather than just write-write-writing all the time!
---
How do I join?
Get in touch with us! The moderation team can be found on Discord, under the following Discord tags:
BHBrowne#0858
TheFifthBeatle#4851
The Mediocre Gatsby#7921
DesertStorm38#7102
Or give us a message on the Telltale forums site - DesertStorm38, TheFifthBeatle (known as @CrazyN8Ball and @High-Flying-Bird on the forums, respectively) and @BHBrowne are findable on this site - or a comment here. Either will work, and we'll aim to reply to all posts/messages regarding joining this endeavor as soon as we can! There are certain rules all members have to follow, and there is a 'trial process' to joining - to maintain a certain quality - and this can all be discussed on Discord or in PMs on this site.
---
Characters
Currently, there aren't many characters taken. This is owing to our limited numbers. We will be writing based on The Final Season, so characters that have died prior - Lee, Kenny, Luke, etc. - are sadly not available. Right now, we have an opening for many characters - the spreadsheet linked above shows the currently taken characters - and we are, very rarely, allowing Original Characters to join. However, these are uncommon cases - we'd much prefer to keep canon characters the main focus, but we will review everything on a case-by-case basis! If you can't access the spreadsheet, for whatever reason, we've included a list of taken canon characters below:
Clementine. Written by BHBrowne
Marlon. Written by TheFifthBeatle
Violet. Written by The Mediocre Gatsby
Aasim. Written by DesertStorm38
---
Thanks for your interest, and we look forward to hearing from you soon!
Tagged:
Sign in
to comment in this discussion.