Why didn't Clem go back to Javier's ANF community with AJ?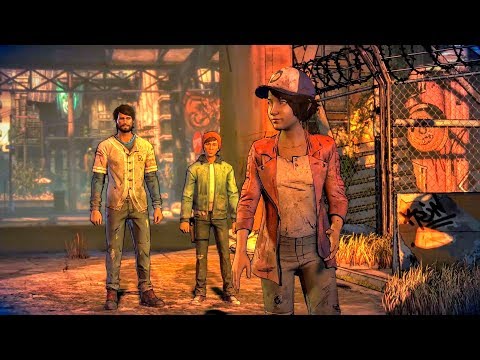 Not only did she never go back, she kinda never really mentions it as if it were ever an option and it's like TT got so shook by the negative response to ANF they just cut it off moving on. But that leads to a huge gap in the story. I must have missed something. Please let me know if she explains why she didn't go back in TFS. I always end up missing or forgetting something then looking stupid lol.
I know their are two endings, one with Gabe (Yuck) and one with Kate. But both regardless offer Clem with open arms to come back with AJ. At the end of ANF Javi tells Clem she's always welcome and when she comes back he'll teach her baseball and shit. They have guns, walls, defense, friends, allies and familiar faces. Javier would have made a great father figure for Clem at the end of the day and Kate is pretty cool herself. And of course Gabe. If you ship that she could have went back for him. They went through quite a lot.
Not only just because of character development, but it just seemed like a logical decision. Was that where she was heading when she got caught up looking for food?
I love Erikson's group more so then any group in TWD don't get me wrong, but Clem and AJ would have been way more logical trying to make it back to Javi's community. I assume they got lost.
Sign in
to comment in this discussion.