The new Monkey Island logo is green, slightly different font. pls fix
In this thread, those of us who are thankful and excited and happy make up ridiculous things to complain about.
Look.
The original MI logo. The font is consistent, and the colours are manly. Purple (well, that's slightly gay), Yellow, and 2x Indy Jones fade.

Classics.
Now... look at this cool new logo. It's $h!+. It's not exactly the same font, and it's not purple/yellow/Indiana Jones.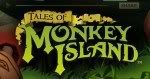 Even though the new font harkens back to the original, and is more stylish, and the green stands out and is lush like a Tropical Island Palm Tree leaf, Tellatle sucks and I will not buy any of these games until this travesty is fixed.
Sign in
to comment in this discussion.