Which characters did you hate the most throughout the series?
Throughout the first 3 seasons their were certainly some condescending pricks and characters that were just truly a pain in the a** plot wise and personality wise. Which characters did you loath the most in the post apocalyptic hell hole?
Here is my top 5 of characters that truly pissed me off.
Brie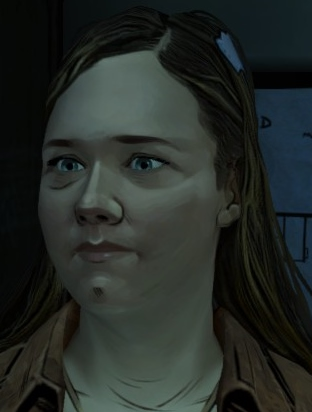 Not high on everyone's list but ever since you first stumble upon this humpty dumpty shaped specimen I just wanted to crack her with a hatchet. Luckily the game grants that very wish and then some.
It's more so because I know her type in real life. The whole "The world owes me something because I'm fat" type of egg plant head having annoying prick. The attitude, the above everyone demeanor.
From the moment you meet her, she literally spends a good 20 minutes trying to get vernon to kill you, like literally expecting a Crawford member to wander into the sewer unarmed for no reason. As if it made sense. Then she actually basically calls Vernon a coward for handing you the gun. Spends the whole game berating everyone and when you try to talk to her for info in the school she basically tells you to leave her alone.
It's the whole ambiance of her. I hope season 1 doesn't count as spoilers but if it does, please beware beyond this point.
When she gets chewed by Walkers, I literally danced. I was hoping she'd had gotten done in. Then later when she comes back as a walker, and the icon comes up to hit her through the head with a hatchet, boy did I savor that.
F*** Brie!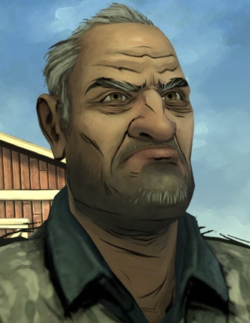 Oh yeah lol, The hall of fame of condescending pricks in the walking dead. This dude is in the rafters. Epic gold standard of dudes who just needed a hatchet through the eye since day one.
The guy literally spends the first 20 minutes you meet him trying to kill a unbitten kid who clearly wasn't bitten in front his father. When you try to escape the dude has the nerve to punch you in the mouth leaving you to die in a swarm of walkers when you have a 8 year old girl to care for who loves you. Who disgusting can a POS be.
The dude is just the typical racist old man, bitter. Another folk you might encounter in real life.
Everyone gives Larry the benefit of the doubt. Saying "He has his reasons" Everyones been through their ish. It's a ZOMBIE APOCOLYPSE. Theirs no more "they've been through some things" excuse. Lee had to cut his own brother's undead head off. Carly had to watch her crush die. Clementine is alone with strangers with missing parents. Hershel had his son chewed. Everyone has had their share of stuff. So Larry can man up and stop being a a hole.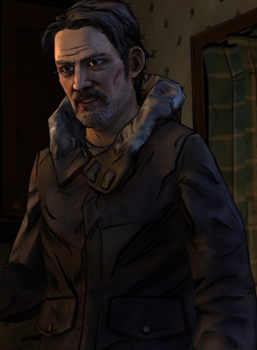 This one is probably number 1, it goes without saying. He was just a vile, retchid POS throughout. He was less subliminal with his scumminess. He's basically hitler lol. Dude almost Killed Kenny. He led to the downfall of him health wise, and mind wise. I really loathe this scumbag.
Like Father like Hoe daughter. She might actually be number 1. Because I was starting to hope Lee and Carly smashed before this manic depresant, phsyco little biotch off'd her because she got told the harsh truth. What a sicko. To shoot someone in the head like a baby throwing a temper tantrum because you lost an argument.
Ever since day one she was on a authoritarian power trip. I must lead, this is my group. I'm glad I left her to the side of the road. No room on the RV for that Stank. And although ben did some b.s. He made up for it and he was truly just a dumb naive kid. Carly was hot af, and I wanted interacial apoclypse babies. I wanted that apocolyptic boo lol.
I didn't loathe as many people in New Frontier, but this jap lady truly is a pain in the assenhiemer. Lol. Why for the life of me did she have to do Salem witch trial b.s and murder good people is beyond me. She ran a theiving ring and was all around a POS.
Which 5 are immortalized as your 5 pieces of trash in the series history? Who do you hate most?
Sign in
to comment in this discussion.