Would you forgive Eleanor if she came to Erikson's?
After seeing how many people in the forums would willingly forgive Lilly and throw her stealing an RV leaving Clementine to die in the cold which led to the death of Lee, Shooting an unarmed Carly in the head executioner style and stabbing Mitch in the throat. Starting a militia of kidnapped hostage children to fight in a ongoing war she started out the window and forgive her. I was wondering... So....
Would you forgive this pretty face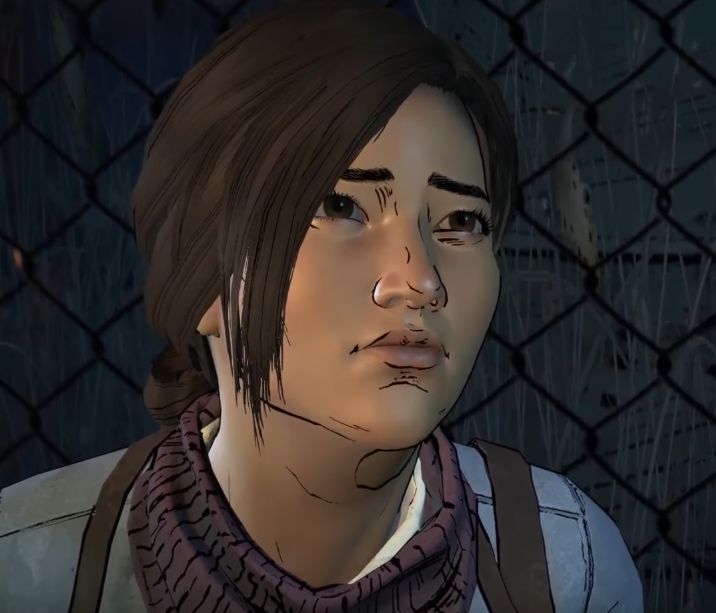 For one Eleanor is a nurse. Sure Ruby is too, (A half nurse) but you can never have enough people good with medicine and first aid. Eleanor is also extremely resourceful and smart. And of course, who wouldn't want more people to fight against the raiders. Anybody with a weapon is a asset in this world. Her actions killed who? Maybe Tripp if you pin that sinister Asian ladies ways on just Eleanor's betrayal. But it isn't her fault. And even if she pulled the trigger herself. It killed Tripp. I love Tripp don't get me wrong. He's cool. But Lilly killed 3 of the best characters in the franchise.
"I was triaging a bad situation. Their doctor is barely functioning. And before you fucked it up, their walls worked. It's not only about me. I can actually save lives here - not just stitch them up and hope for the best. These people will die without me, Javi. "
Don't forget this quote here. Eleanor didn't make that Asian lady, badger or any of that community the evil they were. Her betrayal was out of concern for others and she deserves love.
So let's say Eleanor comes, hands in her lap. Sad, hungry and cold. And she begs Clem for entrance into Ericson's to be with the group and help against the rebels. What do you say?
Let us not forget the man Lee was. The person Clem is.
Lee: Look, Ben's a good kid. He means well. He keeps trying to help, but every time he does he winds up putting the rest of us in even more trouble. What happened to Katjaa and Duck, he feels responsible for that. And the fact is, he's right. He was.
Clem: But you still saved him.
Lee: Yeah. I still saved him.
Would you forgive Eleanor ever?
Sign in
to comment in this discussion.